Ever since I've seen this game a few weeks ago, I have been infatuated with this game. Because of that, I have been thinking of an AU for it. I don't have most parts thought out but I have the rough idea.
Roles:
In this AU, Giorno would be Sunny, Joseph would be Kel, Josuke would be Aubrey, Johnathan would be Basil, Jotaro would be Hero and Jolyne would be Mari. Haruno would be Omori(at least in appearance).
The Morioh Warriors(the ones around school age) would be the Hooligans
I'd probably remove stands(apart from as references) so Giorno would have black hair because he is unawakened.
Character designs:
In Giorno's dreamscape, all of the JoJos' designs would be based of their child versions, but probably wearing pyjamas.
In the real world, everyone would probably be wearing home clothes(which is hard to find references for given that half of them wear school clothes), so Josuke and Jotaro would be wearing the shirts under their uniforms, Johnathan would wear what he wore around the start of Part 1, Joseph would wear his red jacket outfit(probably without the red jacket), and I don't know what Giorno would wear.
Somethings/backstory:
Johnathan and Giorno's somethings would be different as well. Jonathan's would have minor changes: it's shape would more resemble a puddle, since Jolyne's hair is tied back. However, Giorno's would be significantly different because of the context:
In the past, Giorno would play a piano and Jolyne would probably the orchestral version of the main instrument in her theme. The majority story would probably play out the same, but it would diverge after Giorno takes Jolyne's body outside of the house with Johnathan. Jolyne would be laid down near the side of a stream while Giorno would be gathering flowers with Johnathan for Jolyne. Unfortunately, her body would slip below the water, exposing one of her eyes and traumatizing both Giorno and Johnathan.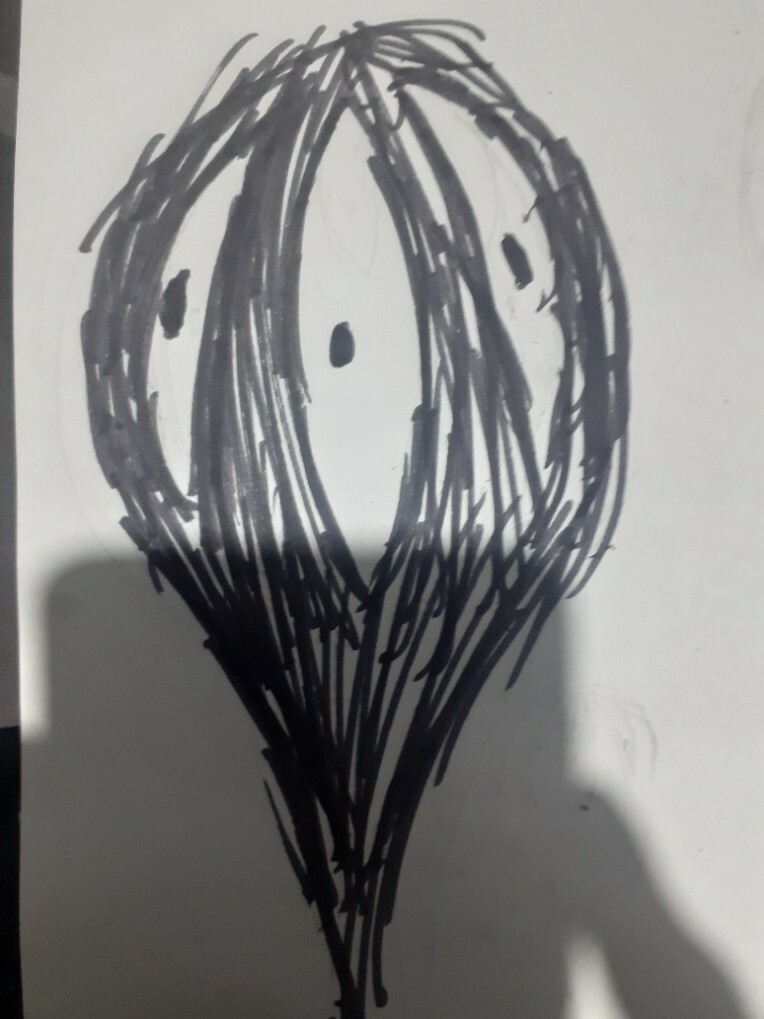 (The bottom section represents Jolyne's braid, the middle eye is the exposed eye and the two either side are her tufts of hair being misinterpreted as extra eyes. Overall, it has an upside down raindrop shape, which fits with Johnathan's something looking like a puddle. I also just find it cool imagining Giorno's something rise up from the floor like a raindrop)
I think "Something"s would be called "Stands". So "Something in the Dark" would be called "Stands in the Dark" or "Stand's in the Dark", and the same for the other main Somethings. This isn't just because it's a reference, but because stands and something's are coined for similar reasons: Basil coins "something" because he believes "Something" is behind Sunny, and Joseph coins "Stands" because he believes they "Stand" behind you.
Routes:
The "Sunny Route" would be renamed the "Buon Giorno Route", and the "Hikikomori route" would be renamed the "Diogenes route" after Diogenes syndrome.
I hope you liked this concept, since I probably won't do much on it. If you want to do any content on it just ask me first.